David Livingstone Life
The Beginning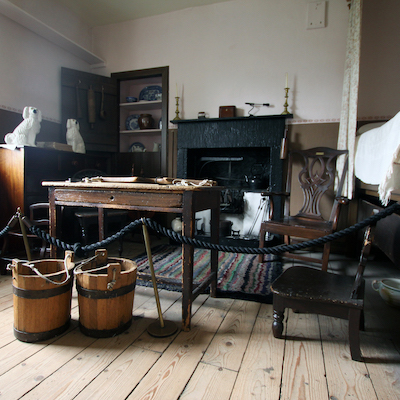 David Livingstone: A mill-worker, explorer, doctor, missionary, humanitarian, anti-slavery campaigner...
David Livingstone embodied many personas in his lifetime. His great achievements meant he died a national hero. Visit David Livingstone Birthplace Museum to immerse yourself in David's story and meet the individuals and communities who help David shape the course of history.
From Boyhood to Africa
An unassuming single-ended tenement in a building called Shuttle Row was the birthplace of David Livingstone. David and his family lived in Shuttle Row, which was accommodation for the Blantyre Works Mill's employees, with another 23 families. Though the Livingstone family was far from rich, the whole family worked hard to live comfortably. The Livingstone household was lively place, full of the hustle and bustle of family life. Devout Christian beliefs and education were central to family life.
Boyhood
As soon as he was old enough David started working in the Blantyre Works Mill. As a piecer, ten-year-old David's job was to duck and dive under a moving spinning jenny – a cotton weaving machine. He worked 14 hours a day, 6 days a week, mending broken threads and clearing debris and fluff from the floor. Piecing was dangerous work. Although piecers were supervised by an adult spinner, it was common for the children's libs and fingers to accidentally get caught in the machinery. When David was older he was promoted to the role of a spinner, having worked he way up the ranks. He didn't last long – his ambitions, dreams and desires reached far beyond the walls of the Blantyre Mill.
From his early years David had a thirst for knowledge. Starting at the village school aged seven, David's education continued in evening classes after taking up his job in the Mill. Even after his two hours of classes post-work he read late into the night. Usually until his mother, Agnes, made him go to bed.
Shuttle Row's surrounding area, which encompasses the River Clyde and nearby Bothwell Castle, provided David with one big playground to explore in his spare time. David collected samples, which he took home to study and look up in books, from the local quarry and woodland. David's passion for exploration and learning set him up for a life-time of adventure.
University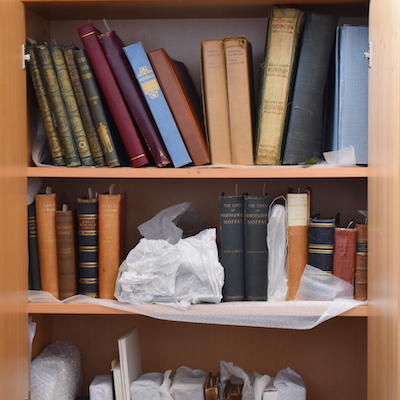 With David's early 20s came some significant changes. Increasingly he left his strict Calvinist religious roots behind and joined the more liberal independent church movement. David always knew a career as a spinner wasn't for him, his sights were set on being a medically-trained missionary instead. With support from his family David soon enrolled at Anderson Institute, now the University of Strathclyde.
At Andersonian David benefitted from the increased knowledge and professionalisation of medicine. His classes in Anatomy, Chemistry and Surgery were taught by eminent professors. Some of David's teacher became life-long friends. They included James Young whose method of distilling paraffin from coal and oil shales made him a millionaire.
After his first year at Andersonian David decided to join the London Missionary Society to further his ambition and passion for spreading the message of Christianity. During his training David was lured by experienced missionary Robert Moffat's description of Africa and 'the smoke of a thousand villages where no missionary has ever been'.
With his preaching and medical training complete the newly qualified Doctor Livingstone set sail for the African continent.
Africa
Centuries of colonisation from firstly Arab, then European powers formed the foundations for missionary activity in Africa. The London Missionary Society operation on the continent started in 1799. When David arrived 40 years later he was met by an established network of mission stations which reached as far as northern modern-day South Africa. From the beginning of his time working on the Kuruman mission station, David was fascinated by the language and culture of the local people. Frustrated by the other missionaries' lack of success converting people to Christianity, David set about establishing more mission stations even further north and into modern-day Botswana. It was here he started his married life with the ever capable Mary Moffat, daughter of missionary Robert Moffat. Mary's knowledge and skills, being fluent in the local language of Tswana, a trained teacher and a resourceful craftsperson, made her a key component in the development of more mission stations.
It was at David and Mary's Kolobeng mission station that David baptised his first convert, Sechele I chief of the BaKwena people. While David's subsequent success as a missionary was limited, Sechele's was not. By the time he died in 1892, the majority of Sechele's 30,000 subjects were Christians. As a well-respected leader and warrior Sechele's work contributed to the eventual foundation of the Republic of Botswana in 1966.
Exploring and Returning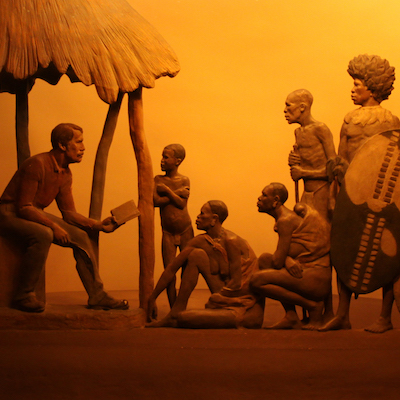 David was not content to stay and work in one mission station as a typical missionary would. His long-standing passion for exploration soon lead him to travel further into the African interior. Initially he took Mary and their growing brood with him but after a disastrous trip and the death of one of their children the family split up. Mary headed to Britain to stay with her parents-in-law while David continued exploring. The aim of what would later be named the Trans-Africa Expedition was to find locations for mission and trading stations. David believed that bring 'commerce and Christianity' to the heart of Africa would help eradicate the pervasive East African Slave Trade which decimated communities across the continent.
During this expedition David became the first European to travel from coast-to-coast across the African continent. Recording natural resources and mapping the area as he went, David became the first European to see Mosi-oa-Tunya which he renamed Victoria Falls. It is likely David's name will always be credited with the 'discovery' of Victoria Falls. Yet, classified as the world's largest waterfall, the landmark was well known by local Africans so much so that David was led there by guides including the Kololo people's chief, Sekeletu.
Return to Britain
When David finally returned to Britain and his family four years later, his reputation preceded him. His 6,000-mile journey as well as his 'discoveries' made him a house-hold name. His numerous public appearances and publication of his best-selling book Missionary Travels only increased his fame. David, who by now was no longer employed by the London Missionary Society, successfully gain British Government sponsorship for his next expedition to explore the Zambezi river which flows from modern-day Zambia to the Indian Ocean.
Zambezi Expedition
Equipped with government supplied, a boat and a crew of including a botanist, geologist, engineer and artist David arrived at the mouth of the Zambezi in 1857. The aim of the expedition was to set up a mission and trading station as well as explore the local area where David and his crew would collect and record local resources. Similar to the Trans-Africa expedition, David hoped to encourage new trade networks which would leave to the end of the slave trade.
Navigational disasters, David's uninspiring leadership style and the failure of his equipment meant the expedition was fraught with problems from the beginning. Worse of all, the mosquito infested banks of the river resulted in outbreaks of malaria. David's wife Mary was among those who died.
One of the few positive outcomes of the expedition comes from the notes, paintings, photographs and samples David and his crew collected which recorded local customs and natural records. Still held in organisations including the Natural History Museum and the Royal Botanical Gardens, Kew these resources are still used by anthropologists and scientists today.
Second Return to Britain
Upon his return Britain in 1864 David was widely criticised for the failure of the expedition. In contrast to his last visit home, David made limited public appearances. Instead he spent much of the year at home with his family, getting to know his children.
Second Return to London
David Livingstone's second return to London in 1864 was plagued by accounts of his failure. Public opinion shifted to Livingstone as the fallen hero whose failure spanned financial, religious and scientific sectors. This meant he spent much of the year at home with his family, getting to know his children again.
Nile Expedition
Eager to return to Africa, David was sponsored by the Royal Geographical Society to find the source of the River Nile. Determined to see the end of the East African Slave trade David was also funded by the British Government to investigate and report on the activities of the trade.
Among the atrocities David witness during the expedition was a massacre of 400 people in Nyangwe (modern-day Democratic Republic of the Congo) by slave traders. When David's account of what happened reached Britain it caused public outcry and contributed towards the government's decision to force the end of the East African slave trade.
Exploring and swampy regions with ever dwindling medical supplies meant David was unwell for much for his last expedition. Desperately lacking in supplies for himself and his crew David was forced to accept food from Arab slave traders.
Journalist Henry Morton Stanley was send to find David following rumours of his death. Stanley - uttering his famous words: 'Dr Livingstone, I presume' - was a welcome sight. Not only did he bring news from home but he bolstered David's exploration stocks and supplied him with almost 60 additional crew members.
Last Expedition, Death and Funeral
After Stanley departed David continued his expedition but soon his ill health returned. Reaching Chitambo's Village (Chipundu in modern-day Zambia) David died on 1 May 1873 aged 60.
Upon David's death his crew, including James Chuma and Abdullah Susi, made the decision to return with his body Britain. They buried his heart and internal organs under a Mvula tree and embalmed his body before starting their journey to the East African coast. Dead bodies were taboo in the areas thought which they travelled making the journey even more perilously dangerous for David's crew.
Reaching the port of Bagamoyo (now Tanzania) with David's body and his possessions the crew were met by a British warship. After a stopover in Zanzibar David's body was transported back to Britain.
One year after David's death, in April 1874, his body was buried in a nationally significate funeral in Westminster Abbey. Of the 65 crewmembers and porters who transported David's body back to Britain, only Jacob Wainwright was able to attend the funeral.
Although David never did find the source of the Nile his abolition efforts did pay off. Eight months before David died Prime Minister Gladstone made the decision to enforce to abolition of slavery. Just after David died a treaty was signed to finally close down the Zanzibar slave market, one of the last hubs of the East African Slave Trade, once and for all.