Belong Nottingham Visit 14 May 2019
April 2019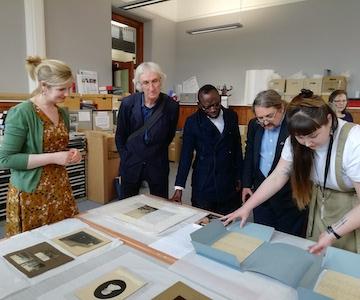 The Birthplace Project team were delighted to welcome a team the Belong Nottingham team to our offices to have an exchange of research, information and start an exciting new research partnership. We were able to some of the exciting stories we'll be telling in the new David Livingstone Birthplace Museum and celebrate the achievements of our volunteers over the last year.
Simon Ferrigno, Heritage Project Officer with Belong Nottingham said:
'A team from Belong Nottingham's 'African Perspectives on David Livingstone' project were delighted to visit the David Livingstone Trust and the National Library of Scotland to learn more about the legacy of the explorer and the lives of his African companions, James Chuma, Abdullah Susi and Jacob Wainwright. All have a connection to Nottingham through visits to Newstead Abbey. Albert Bambosele, Chris Weir, Georgianna Scurfield and Simon Ferrigno were delighted at the warm welcome offered by the staff, volunteers and trainees of the Trust, and hope to be able to return the favour one day. We learnt a huge amount and came away with more knowledge and ideas. Thank you all.'
We're really looking forward to continuing this collaboration - watch this space.